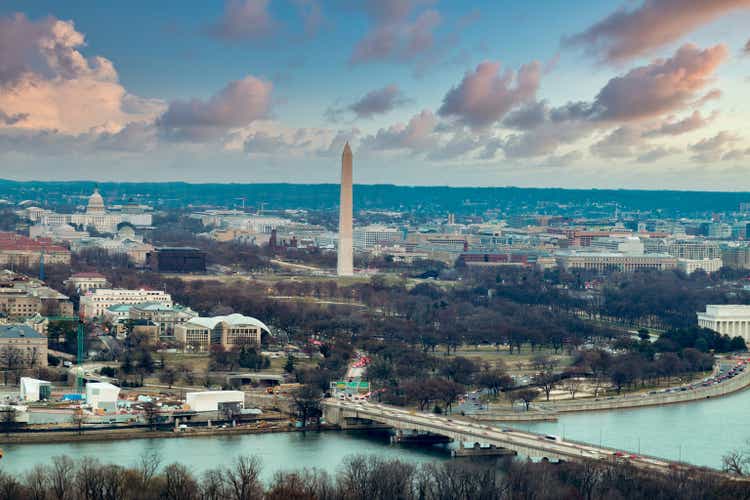 FRP Holdings: many free options and insiders own 35% (NASDAQ:FRPH)
Investment thesis
FRP Holdings (Nasdaq: FRPH) is a $540 million public limited company (SA was last redacted in 2017, about 5 years ago) run by the shareholder-friendly Baker family (owns about 35 % of shares) that have proven to be smart allocators of capital. Although it trades at around 100% of a conservatively estimated net asset value, there are a ton of free options and the net asset value will most likely increase over the next few years. This is a good opportunity to invest in sustainable, cash flowing assets managed by a smart management team.
context
FRP Holdings is a holding company engaged in various real estate activities. The four business areas are:
Asset Management: rental/management of commercial premises belonging to FRPH
Mining royalties: leasing/management of mining royalty lands
Development: acquisition, law, development and construction of real estate (mainly for apartment buildings, retail, warehouses and offices); alone or via joint ventures (JV)
JV stabilized: ownership, rental and management of buildings through JVs
Asset management sector
In 2018, FRPH sold 40 industrial warehouses and 3 land to Blackstone (NYSE:BX) for $347.2 million. In 2019, FRPH sold 2 more industrial warehouses to Blackstone for $11.7 million. In 2020 they sold another property they had acquired in 2019.
In short, management has shown a willingness to sell properties at the right price, which has generated a lot of shareholder value:
Well, everything is for sale, as you can – as you certainly know, from our past activities.
The main strategy now is to redeploy proceeds from sales of the warehouse portfolio into asset classes in various business segments that will enable management to leverage their knowledge and expertise (including mixed-use properties, raw land, existing buildings and strategic partnerships in key markets with growth potential).
Mining Royalty Land Segment
FRPH owns several properties (~15,000 acres) under lease for mining rents or royalties and an additional 4,280 acres through a joint venture with Vulcan Materials (NYSE: VMC). All mining properties are located in Florida and Georgia (except 1 in Virginia).
Development Segment
FRPH owns and continuously monitors "the highest and best use" of parcels of land that are in various stages of development. The main strategy is to convert all non-income producing properties in the FRPH to income producing properties by:
Orderly process of constructing new buildings or
Sales to, or JV, with third parties
An example of a primary strategy has been to acquire, license and ultimately develop commercial and industrial business parks providing 5-15 commercial areas which are then converted into warehouses or office buildings.
Stabilized joint venture segment
FRPH owns buildings that are leased through JVs. FRPH intends to transfer additional joint ventures from the development segment to this segment as they achieve stabilization.
Insider ownership
The Baker family owns approximately 35.6% of the company (CEO owns 14.8%, other family members own 20.8%).
Valuation (last 10-Q)
Cash: $163 million
Investments available for sale at fair value: $4.3M
Total responsibilities: 261 million dollars
Mineral royalty properties
The mining segment is probably the easiest segment to assess. The company simply leases the land to other companies and simply collects checks based on the amount of rock/sand extracted from the ground. Total royalty income is defined by: volume x price.
This segment generates about $10 million in revenue per year and with a margin of about 90% FCF, we get $9 million in FCF.
A multiple of 25x (or a cap rate of 4) seems appropriate for this type of business, so $225 million.
There are also about 500 million tonnes of reserves. For reference, 8.4 million tons were extracted in 2020, so there are about 60 years of reserves at least.
On top of everything, there are two additional potential benefits:
Infrastructure Bill: would increase infrastructure spending by 20% between 2022 and 2026, which would then lead to price increases; therefore the volume and the price increase
second life: once the mines are exhausted, the land can then be reallocated; for example, Fort Myers is accommodated for future construction of up to 105 residential housing units around mined lakes
Value of mining property assets: $225 million
Multi-family assets
Dock 79 (Washington, DC): 305-unit residential building with ~18,000 square feet of retail space on the first floor

94.43% occupied, 66% owners; ~$6.5m NOI, 4% cap rate –> $107.25m ((6.5/0.04)*0.66)

The Maren Phase II (Washington, DC): 5.8-acre land parcel in Washington, DC that faces the Anacostia River and is adjacent to Washington Nationals Baseball Park; the four-phase plan includes a mixed-use project of four buildings, containing approximately 1.2 m² of square feet; important to note that The Maren started renting in March 2020 and was able to get up to 90% by the end of the year

94.70% occupancy, 70.41% ownership, $2.4M Q4 2021 revenue –> $9.6M revenue per year; assume 50% NOI, we get $4.8 million NOI –> $84 million (probably an underestimate)

The Maren Phase III/IV: 600,000 square feet of mixed-use development

assume $85/ft2. ft –> $51 million

1800 Half Street (Washington, DC): Located in the Buzzard Point neighborhood of Washington, DC, less than half a mile downriver from Dock 79 and the Maren, mixed-use project; held on the books at $37.87 million
Bryant Street (Washington, DC): Phase One is a mixed-use development that supports 487 residential units and 85,681 square feet of first-floor and freestanding retail on approximately five acres of the approximately 12-acre site, invested $32 million in exchange for 61.36% common stock and $23 million preferred stock; assume $55 million
Multifamily total value: 107.25 + 84 + 51 + 37.87 + 55 = $335.12 million
To note: It should also be noted that there was a rent freeze in DC until the end of 2021, which was lifted in January 2022. It is also worth noting that rents increased in 2020/2021 despite the moratorium.
Other (assume gross book value or cost)
Hampstead Trade Center (Hampstead, MD): 118-acre parcel located next to State Route 30 bypass, has been rezoned for residential use ($8.9 million)
.408 Jackson (Greenville, SC): Class A mixed-use multifamily developments; will hold 227 multi-family units and 4,700 square feet of retail space ($9.9M)
Riverside (Greenville, South Carolina): development of a 200-unit multi-family apartment project ($6.3 million)
DST Hickory Creek (Henrico County, Virginia): 294-unit garden-style apartment community that consists of 19 three-story apartment buildings containing 273,940 lettable square feet ($6 million)
Square 664E (Washington, DC): ~2 acres, currently leased to Vulcan Materials for use as a concrete plant, planned to be a future high-rise development ($8 million)
Windlass Run (Middle River, Maryland): multi-building business park featuring approximately 329,000 square feet of single-story office space ($5 million)
34 Loveton Circle (Baltimore County, MD): an office building totaling 33,708 square feet, 95.1% occupancy (16% is used by FRPH as Baltimore headquarters) ($6.5 million)
155 E. 21st St (Duval County, FL): office building under lease until March 2026 (tenant allowed to demolish all structures on property in 2018) ($0.2 million)
Cranberry Run Business Park (Hartford County, MD): 5 office buildings totaling 268,010

sq. ft., 87.6% occupancy ($8.7M)

227,000 square feet of Hollander Business Park warehouse: $30/

ft2 to –> ($6.8M)

625K

m² of industrial product located at 1001 Old Philadelphia Road: (cost of $10.5 million)
Others Total value: 8.9 + 9.9 + 6.3 + 6 +8 + 5 + 6.5 + 0.2 + 8.7 + 6.8 + 10.5 = $76.8 million
Total asset valuation:
Cash + investments: 163 + 4.3 = $167.3 million
Mining royalty: $225 million
Multi-family: $335.12 million
Other: $76.8 million
Total liabilities: $261 million
NAV = 167.3 + 225 + 335.12 + 76.8 – 261 = 543.22
Share: 9.4 million
NAV/share = $57.76 (currently $57.25)
P/NAV = $57.25 / $57.76 = ~100%
Risks
Concentration of multi-family DC: most of the value of FRPH comes from multifamily DC, but it is a very strong asset class; DC is fairly recession-proof since the federal government is the region's largest employer. In addition, the quick rental of the Maren during the pandemic shows how strong the market is
Catalysts
Rent increases: now that the moratorium is lifted, rents should increase like in the rest of the country
Sell ​​at the right price: the Baker family has shown that they are ready to sell if the right offer arises, which creates substantial shareholder value
Continued good capital allocation: evidenced by the company repurchasing $20 million worth of stock during the pandemic below NAV, patiently waiting for the right projects/investments/offers and holding a nice amount of money to deploy
Inflation/stagflation: real estate/royalty companies work well in times of inflation and can act as an inflation hedge
Insiders: own 35.6%
Conclusion
FRPH is a DC-centric multi-family real estate company (and royalty company) that trades at a conservative price of 100 cents on the dollar. However, there are several catalysts on the horizon that will help boost the net asset value over the next few years. On top of that, the management has proven to be a very capable and smart allocator of capital.
Based on the analysis above, I recommend going long in FRPH.