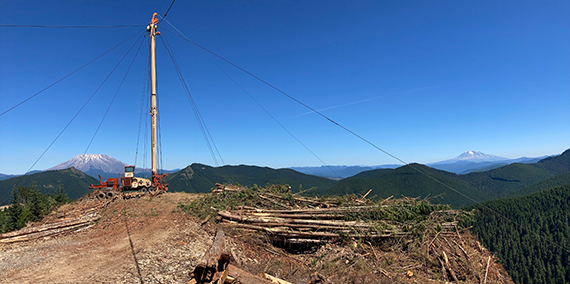 Previous Western Washington Sustainable Harvest Calculations | Washington
Explore the following links to learn more about the two most recent sustainable harvest calculations for state-owned lands west of Cascades Ridge: the 2015-2024 Planning Decade and the 2015-2024 Planning Decade. 2005 to 2014.
Planning decade 2015 to 2024
The Natural Resources Council set the level of sustainable timber harvesting on state-owned land in western Washington at 4.65 billion board feet for the 2015 to 2024 fiscal year at its meeting on 3 December 2019. It also adopted a new policy on conducting an analysis of end-of-decade arrears. Below is the Natural Resources Council's resolution to set the level for the decade of planning and the new arrears policy.
Analysis of the fiscal district, February 2020
Final EIA, October 2019
The final environmental impact study for the planning decade 2015 to 2024 assesses six alternatives, including one without action. Each alternative combines a murrelet conservation strategy, a planting approach, and a riparian zone thinning level as the basis for calculating a sustainable harvest level.
SIEF in sections
Opening pages (cover, letter from the commissioner, information sheet, table of contents)
Summary
Chapter 1 Introduction
Chapter 2, The alternatives
Chapter 3, Affected environment
Chapter 4, Environmental consequences
Chapter 5, Cumulative Effects
Chapter 6, Literature Cited
Chapter 7, Key Definitions
Appendices
Annex A, Scoping report
Annex B, Long-term forest cover
Annex C, Backlog Report
Annex D, Settlement Agreement
Annex E, Natural Resources Council Resolution 1239
Annex F, Template
Annex G, Sustainable Harvest Levels
Annex H, Rare plants
Appendix I, Distribution of fish
Annex J, Wild species
Annex K, Distribution List
Annex L, Response to Comments on the Draft EIS
Annex M, End-of-Decade Analysis Policy
Annex N, Revisions to the Definition of Sustainability
Revised financial analysis, October 2019
Financial analysis project, July 2017
Draft EIA, December 2016
The draft Environmental Impact Statement (DEIS) for the 2015-2024 planning decade included the analysis of the proposal by the MRN. It also gave agencies, affected tribes and the public the opportunity to review and make suggestions to improve the adequacy of the environmental scan. Public comments on this proposed DEIS were accepted until 5:00 p.m. on March 9, 2017.
DEIS in sections
Opening pages (cover, letter from the commissioner, information sheet, table of contents)
Appendices
Annex E, Natural Resources Council Resolution 1239
DEIS public meetings
MNR held four public meetings for DEIS:
January 10, 2017, 6-8 p.m., Northwest Region Office, Sedro Woolley
January 12, 2017, 6-8 p.m., Whitman Middle School, Seattle
January 17, 2017, 6-8 p.m., Lycée de Port Angeles, Port Angeles
January 19, 2017, Julius A. Wendt Primary School, Cathlamet
The following posters were displayed at the public meetings:
The following presentation was presented during the public meetings:
DEIS webinar
Statement of purpose and need
Scope
Litter Webinar
Planning decade 2005 to 2014
Environmental review documents
Decisions of the Natural Resources Board and related documents
Economic research
In collaboration with a technical advisory committee, MNR modeled the projected revenues by decade and by confidence for each of the six alternatives.
Socio-economic research
During the Sustainable Harvest Calculation process, MNR undertook extensive public opinion research to understand public feelings and values ​​regarding the stewardship of Crown trust lands. In an effort to understand the financial impact of timber harvests on state trust lands on Washington communities, the Natural Resources Council also received a report on "Socio-Economic Resilience" which provided information on how reducing or increasing the harvest of timber on the state trust lands could affect counties in the state.
Background information