Shutterstock stock: why growth might still be ahead (NYSE: SSTK)
Investment thesis: Although Shutterstock has recently experienced a significant short-term pullback in its stock, I believe that strong revenue growth and a healthy cash position could ultimately lead to a longer-term rebound.
Shutterstock (NYSE: SSTK) is a leading provider of royalty-free and licensed stock photography.
The stock has seen strong growth since 2020, with the price now moderating sharply.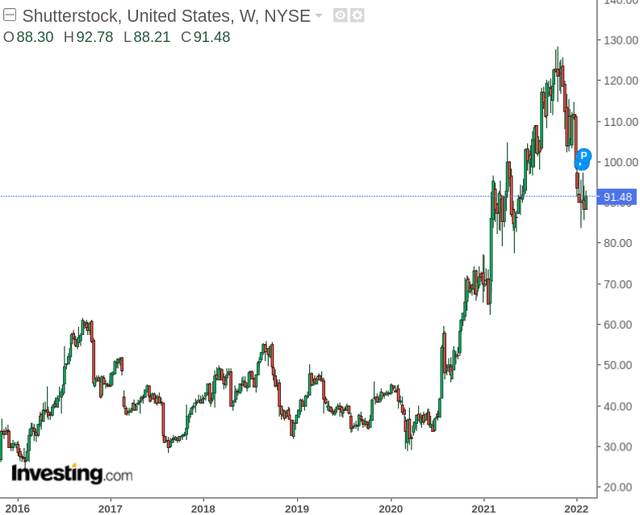 The purpose of this article is to determine if Shutterstock might have the potential to rebound from here given the recent consolidation.
Historical performance
The core principle of Shutterstock's business model has been to increase revenue by selling subscription plans to consumers – allowing full access to the company's repository of royalty-free images, while benefiting from competitive pricing for access standard license images.
Revenue growth has increased significantly from 2020. For example, the cumulative revenue growth over the last seven quarters (Q2 2020 to Q4 2021) was 24.37%, while a growth of only 2. 95% was recorded for the previous seven quarters (Q3 2018 to Q1 2020).
Here is a logarithmic scale illustrating revenue growth from the first quarter of 2015 to today (the percentages quoted above are also expressed in logarithms to better capture the real growth):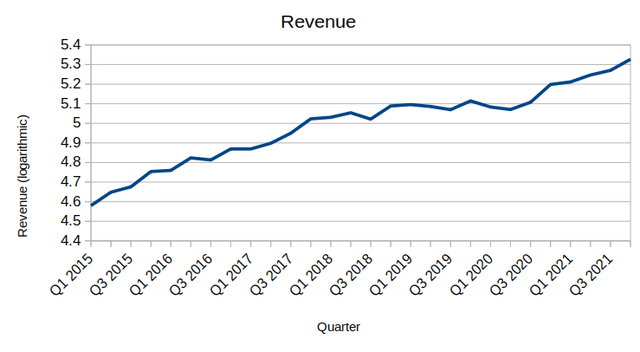 Shutterstock has seen significant revenue growth during the pandemic as many businesses' shift to online sales during the lockdown period has reinforced the need for high-quality commercial images as a means of marketing.
In 2021, TurboSquid's acquisition by Shutterstock helped the company become the largest 3D marketplace in the world.
Broad macro trends in this market look promising, with the 3D market expected to post a CAGR of 21.5% to $107.68 billion by 2030.
Looking at Shutterstock's revenue growth in more detail, we can see that while paid downloads have shown a slight decline on a year-to-date basis since the first quarter of 2020, revenue per download has increased by more than 20% in this year. period.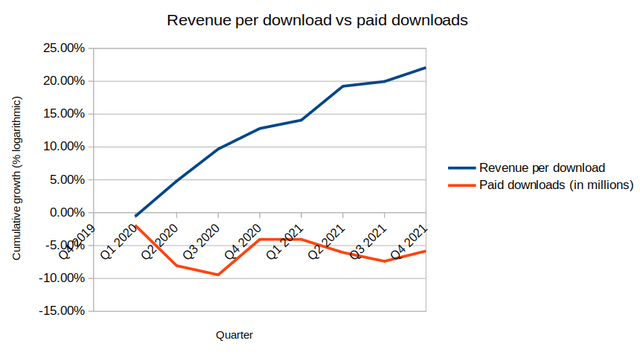 This would seem to suggest that even with a slight drop in total downloads, downloading customers are increasingly willing to pay higher prices for Shutterstock content. In that regard, the company would likely see its revenue grow by an even larger margin if the growth of paid downloads as a whole rebounds.
Looking forward
Of course, any business that sees above-average revenue growth will eventually see that growth level off, according to the law of large numbers.
From the period of Q1 2015 to Q4 2021, Shutterstock's average revenue growth was 2.78% with a standard deviation of 3.49% (calculated from log growth percentages per quarter).
Using 10,000 simulations, here is a Monte Carlo analysis of the expected distribution of revenue growth by quarter: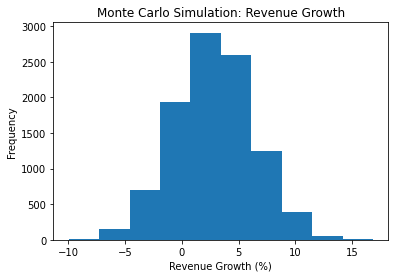 For context, revenue growth in the last quarter was close to 6%, whereas this simulation would indicate that one would expect to see more of that level of growth over the quarters than just over 15% of the time.
In this regard, if we continue to see similar revenue growth over the next few quarters – then this could be seen as a fairly positive signal by the market – as it shows that the company still has room to increase revenue. Despite rising -online sales and e-commerce are beginning to stabilize as the pandemic recedes.
That said, one of the potential risks for the business in the future is a further decrease in the total number of paid downloads, while the propensity to increase revenue per customer also decreases. Although it ultimately remains to be seen whether that will prove to be the case – download revenue growth has shown no signs of slowing so far, and Shutterstock's strategy of focusing on building profitability of its most valuable customer bases has worked for the company so far.
Additionally, Shutterstock appears to have managed its balance sheet quite well – with cash and cash equivalents growing strongly even before the pandemic.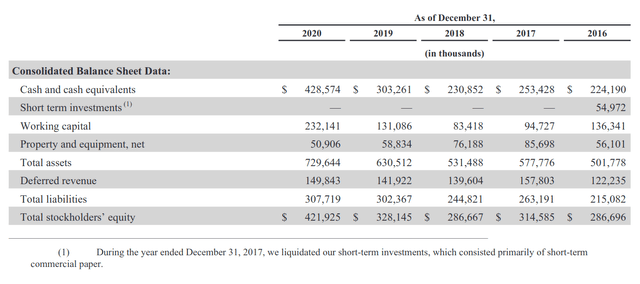 In addition, we also see that the ratio of cash to total liabilities has seen strong growth over the period: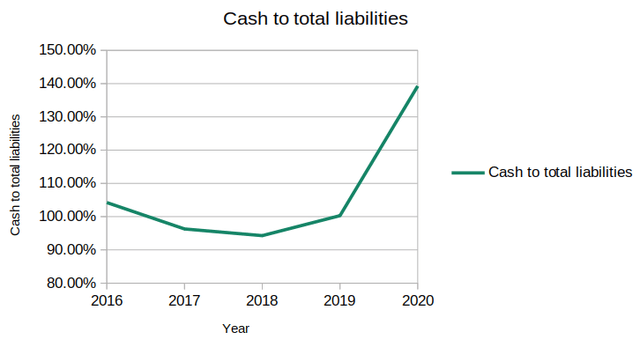 From that perspective, I'm optimistic about Shutterstock's ability to scale its business and meet growing demand while maintaining enough cash to cover short-term expenses.
Conclusion
In conclusion, Shutterstock's sell-off appears to have been driven in part by a broader market decline. I believe the company still has some headroom in terms of revenue growth potential and the company's balance sheet looks strong overall.
For this reason, while there may be more downside risk in the short term, the stock could still experience significant growth in the long term.
Additional Disclosure: This article is written "as is" and without warranty. The content represents my opinion only and does not constitute professional investment advice. It is the reader's responsibility to exercise due diligence and seek investment advice from a licensed professional before making any investment decision. The author assumes no responsibility for any action taken based on the information in this article.